Main content starts here, tab to start navigating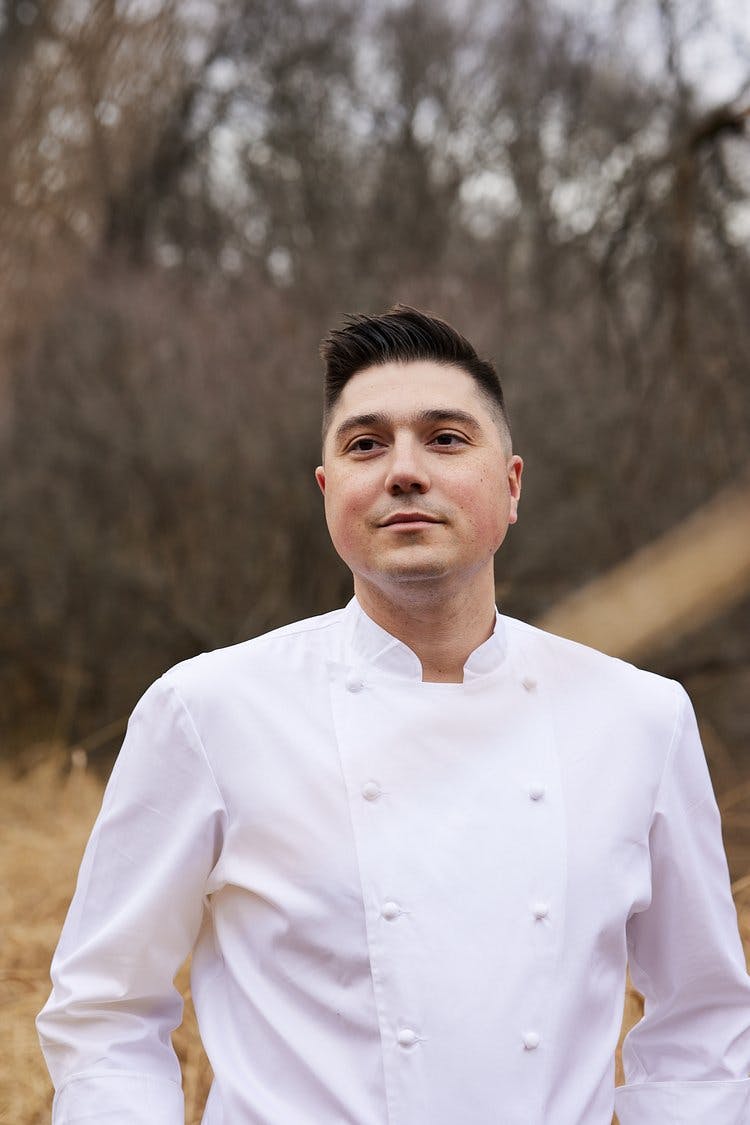 Andrew Longres
Executive Chef
Longres checked out a copy of Gourmet magazine during a trip to the school library when he was 10 years old.
As he flipped through the pages, he was captivated by an article detailing lettuce varieties and their flavor profiles. "I'm a nerd," he says. "That magazine article just made me want to taste and try them all."
Twenty-five years later — after working at some of the country's finest restaurants, including The French Laundry, Bluestem and The American Restaurant — Longres is poised to open Acre, a 3,500-square-foot, 90-seat restaurant in Parkville Commons Shopping Center in Parkville, Mo.
Acre is a culinary homage to Longres's childhood. The name refers to Rolling Acres, his grandparents' farm in Liberty, Mo., where he learned to ride horses, as well as how to hunt, fish, garden and prepare food over a campfire. He used his knowledge of the outdoors as a Boy Scout, eventually earning the rank of Eagle Scout.
Longres's first job was at Lamar's Donuts at age 14. By 16, he had added a job as a dishwasher at the family-run Hardware Café, where he swiftly worked his way into the role of line cook.
During high school, Longres enrolled in home economics classes because his schedule, which included Advanced Placement chemistry, precluded him from attending the district's culinary arts program.
Longres excelled at chemistry, but eventually rejected it as a career path: "I knew at a young age I wanted to get into cooking," he says. "I'm
hard-nosed, and when I say I'm going to do something, I do it."
Longres received a scholarship to the Scottsdale Culinary Institute in Arizona, where he earned a bachelor's degree in Occupational Science and Restaurant Management. His coursework included an externship at The Breakers in West Palm Beach, where he received his first exposure to fine dining.
After winning a Chaine des Rotisseurs competition, Longres received a scholarship to study abroad for three months, allowing him to work in three of Europe's top kitchens: Le Epicure at The Bristol Hotel in Paris, Marcus Wareing at the Berkeley Hotel in London and Mugaritz in Errenteria, Spain.
When he returned home, Longres spent time working under the late John McClure at Starker's Restaurant and Debbie Gold when she was at 40 Sardines and The American Restaurant.
As a young cook, Longres frequently spent vacations working for free at such famed restaurants as Alinea, 120, Acadia, Blackbird and Avec in Chicago and Daniel, Per Se, Eleven Madison Park and Le Bernadin in New York City.
Acre's ambiance is designed to invite diners to disconnect and focus on the enjoyment of a meal with family or friends.
"We'll highlight amazing ingredients, pristine execution, and serve the food with genuine Midwestern hospitality," Longres says.
A central feature of the restaurant will be an Argentinian brasero-style, wood-fired hearth to create dishes such as pickled chicken, served half roasted and half fried, or add smoke to steaks dry-aged in-house.
"The most primitive way to cook is with an open fire. It's challenging to work with a living thing and there is a push and pull with fire, getting the mix of fuel and oxygen just right," Longres says.
Acre includes a 37-seat patio with a pergola and free parking. Longres's research into Parkville demographics indicates suitable conditions to build a robust restaurant business. But ultimately there is another reason to choose Parkville as the site of his new restaurant: Longres, his high school-sweetheart-now-wife Megan and their two young children happily call the city home.
"I'm excited to bring Acre to Parkville," he says. "It's taken almost a year to find the right spot, but I like that it has a small-town feel, and people are willing to help you get your business started."